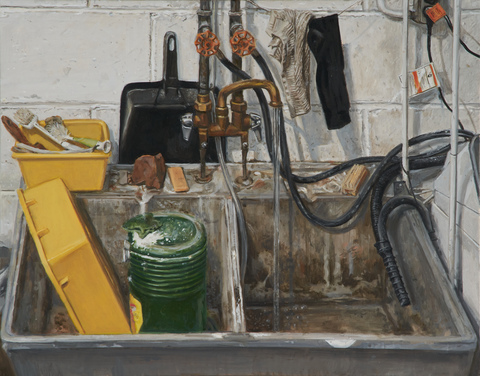 Duluth Sink, 2020, Oil on canvas, 16″ x 20″
Scott Marvel Cassidy has been producing remarkable work in Los Angeles for a couple of decades now, ranging from rigorously conceptual sculptures to absurdly literal audio collages to professionalish comedy to the masterfully mimetic oil paintings in his current show: Marketa and Maria Paintings on view at SOLDES Gallery Feb. 19 – April 2, Fridays -Sundays, 12 NOON – 5:00 PM, 510 Bernard Street, 90012. Old school Chinatowners will remember 510 Bernard as the original home of Human Resources and David Kordansky Gallery, among other enterprises. It's good to see this funky old space is still happening! LESS ART chewed the fat with Cassidy in the car-port tent of his Duluth estate…
LESS ART: Where do you get your ideas?
Scott Marvel Cassidy: My paintings are non-narrative subjects of my immediate environment. Mostly dealing with anxiety, self-absorption and OCD. I specifically use sable brushes so as not to have gestural strokes or paint thickness. I try to paint every detail i can possible see. Overworking a painting is the approach and a way to honor my obsessive tendencies and emotional distance.
LESS ART: So you mean to say that the subject of your paintings is actually the process involved — the amount and intensity of attention paid to your visual environment, and the precision of your craft in transcribing it? Sounds almost devotional.
Scott Marvel Cassidy: More meditation than devotional. I am still thrilled by painting and looking at painting. Painting for the sake of painting (to paraphrase what Lemmy or someone said "noise for the sake of noise.")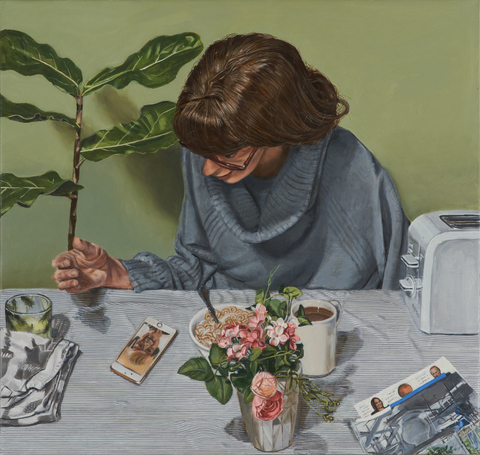 Maria and Marketa in Quarantine, 2020, Oil on canvas
LESS ART: So there's actually a lot of pleasure in anxiety, self absorption and OCD? Or maybe in dealing with anxiety, self absorption and OCD?
Scott Marvel Cassidy: Painting and drawing has always been a way of dealing with anxiety, bipolar depression and life in general. So when I say I'm still thrilled with painting and it is a meditation, it is a therapeutic venture.
LESS ART: What's in this show? Who is Marketa?
Scott Marvel Cassidy: The paintings in the show were painted during the height of the pandemic. I figured by the time I showed these paintings they would be nostalgic, in terms of the bad old days of COVID — but here we still are!
Marketa is Maria [Bamford, the artist's wife]'s best friend and a great patient model.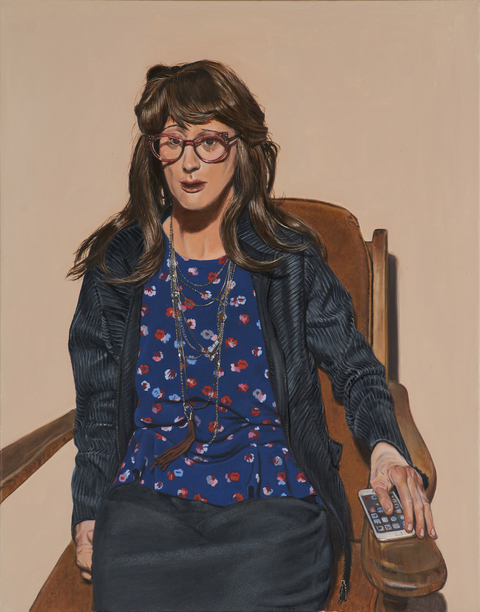 Woman Sitting (Quarantine, Day 65), 2020, Oil on canvas, 35″ x 28″

LESS ART: How has the pandemic affected your work? I know some of the content you've posted on social media has been specifically referencing that. Has your practice been changed as well?

Scott Marvel Cassidy: The pandemic hit and I thought I was fine but Maria let me know I wasn't so cool headed. So I went on Prozac and that helped me with focus and the emotional spiraling. Also I couldn't hire models to paint anymore so I started buying movie prop dummies. They aren't as expensive as a model and they don't move! So I paint still "lives" almost exclusively.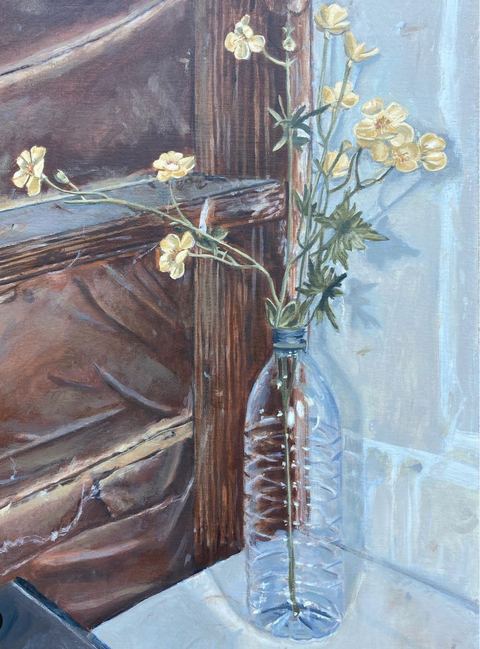 Quarantine Still Life, 2020, Oil on canvas, 18″ x 14″
LESS ART: The work that I remember first noticing of yours was that series where you pastiched fragments of – was is Norman Rockwell paintings? – into depictions of your distinctly un-Norman Rockwell family history. That must have been more than a decade ago — can you give a rough outline of how the work got from there to here?
Scott Marvel Cassidy: The earlier work was being made during the time I worked for Jim Shaw and I also was working for mural and faux finish contractors. It was a very rote way of working on those jobs. Using photo reference, tracing and filling in with color. Efficient and polished. So my own art moved to the same process. After about 15 years, one gets burned out and cynical. I didn't want to make art anymore. So I just started painting what I wanted to see in a gallery or museum. Still life and portraiture is what I gravitate to and no more photo reference. I still enjoy Jim's work and most contemporary art but it's not what comes out of my brush.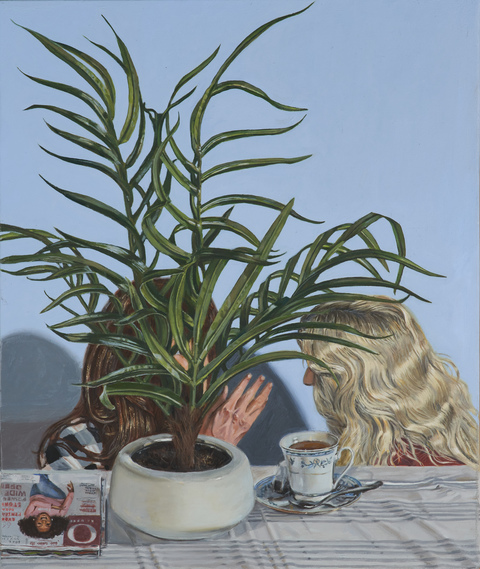 Marketa and Maria, 2020, Oil on canvas, 22 1/2″ x 27″
LESS ART: So it was more of a reboot than an evolution? Do you have to actively resist conceptualizing now, or is it a total relief?
Scott Marvel Cassidy: The best conceptual artists are ones that write well and can tell you what is going on. I think my writing is so convoluted that it's better I give less information.
As for the evolution of my art, it just turned out that I didn't like the rote process of tracing photographs or collages anymore. I didn't see the point of it, for me at least. It was a job.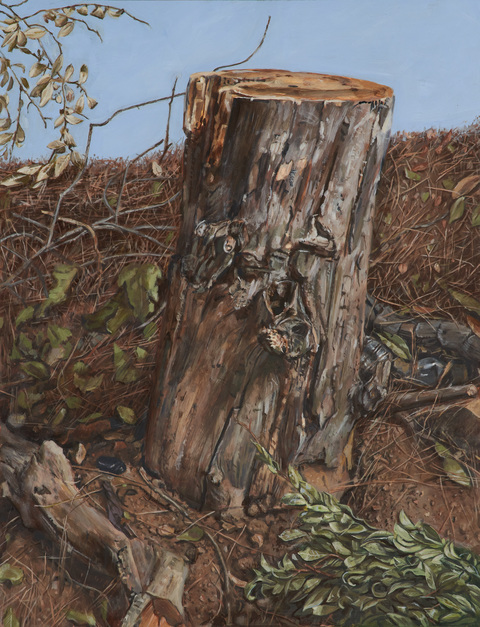 Landscape With Tree, 2020, Oil on canvas, 20″ x 28″
LESS ART: Your still life setups are self-explanatory, but just to clarify, are your painted portraits done in real time, with a model, or do you work from sketches?
Scott Marvel Cassidy: All of my paintings for the last ten years have been strictly from life. The set up of the still life or model is the "sketch" I paint from. I spend a lot of time making these paintings so it has to hold interest.
Efficiency Kitchen 38 1/4" x 32" Oil on canvas 2021
LESS ART: Can you walk us through the technical nitty-gritty, including brands of paint and brushes, etc? Be as OCD as you want.
Scott Marvel Cassidy: I use sable brushes, old Holland paints, liquin and turpenoid. The brushes are usually the Princeton brand , Siberia 700 series. The sizes range from 10 to .001. My colors are initially bone black, titanium white, yellow ochre and raw sienna (the dead palette). As a painting progresses I'll use ultramarine blue, alizarin crimson and lemon yellow. My maul stick is a turn of the century arrow with feathers and point taken off. The end is a leather sack of synthetic pig bladder stuffed with goose down. The bladder is fastened to the stick with a copper crimp.
I have arthritis and my hands cramp up after painting all day. Sometimes I duct tape my brushes to my hand.
Duluth Nap (Quarantine) 20" x 16". Oil on canvas.
LESS ART: What artists – contemporary or historical – do you find yourself identifying with at this point?
Scott Marvel Cassidy: The artist who has the biggest influence over me is my wife. Her work ethic and skill as a performer and writer are very inspiring. She is a great loving support. Jim Shaw also for is work ethic and weird scenes inside the gold mind.
Other artists like Lucien Freud, Antonio Lopez Garcia, Alice Neel, Cranach…I could be here all day…